Just Need a Few Strong Movers? Our Labor Only Moving Services Option can help.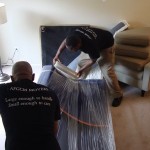 There are many reasons a customer may need labor only moving services. Our company will provide you with experienced, skillful movers to help with the following:
Loading/Unloading a Truck or POD.
Moves that take place within the same building.
Moving heavy items of furniture around or within your home/office.
So, whatever the reason, if you just need a few strong, experienced movers, and no truck, A Few Good College Men Movers can meet your needs at affordable rates.
Get a Quote Now!